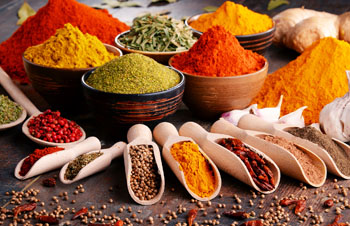 PRODUCTION AND DEVELOPMENT
We are a leading and dynamic company with over 20 years of experience in the oleoresins and essential oils sector. The company Rüther Gewürze GmbH specialises in the customer-focused production, refinement, processing and development of spice extracts / oleoresins and essential oils. Our product development revolves around an ongoing improvement of our products to ensure problem-free processing for our customers.
SHARPNESS, SEDIMENTS, FLAVOUR AND AROMA OF SPICE EXTRACTS.
This task comprises the viscosity, colour, sharpness, sediments, flavour and aroma of the spice extracts. Our products can be adapted to the required quality or pricing policy, enabling us to provide our customers with optimal benefits. Our raw materials are produced by some of the world's leading companies and are subject to our stringent quality controls at our production plant.
We look back at our company's history with pride.
The company was founded by Mr Rüther on 23 October 1993 in a small office on the Busenbergstrasse in Dortmund.
The intention was to trade in all kinds of spices. However, during these early days it became clear that, rather than just a dealer, the market actually required specialist competence in the processing and handling of oleoresins and essential oils along with expertise in the further processing and development of raw materials (oleoresins, essential oils).
A new site suitable for production was needed to implement customer requirements. A small production and warehouse premises (250 m2) was then acquired on the Hauptstrasse in Holzwickede in 1994.
This made it possible to meet customer requirements for oleoresins specially adapted to their required purpose. And so the foundations for the current Rüther Gewürze were laid.
Another relocation was then required in 1999, taking the company to its current premises (850 m2) at Natorper Strasse 75 in Holzwickede.
Following continuous growth, another warehouse was added in Dortmund in 2008, representing an additional 2,500 m2 of space.
New office and laboratory capacity were needed.
To meet this demand for space, it was necessary to acquire another building in 2010. This space was obtained following the purchasing of a site at Natorper Strasse 73 (500 m2).
The total area covered by the production, warehouse, office and laboratory space in Dortmund currently stands at 3,850 m2 across a plot of 7,800 m2.
Rüther Gewürze GmbH has developed to become a reliable and competent partner for customers in the processing and handling of oleoresins, essential oils and flavourings.