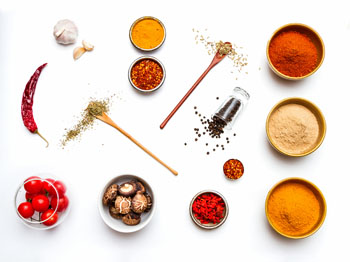 What are oleoresins?
Oleoresins are natural colouring or flavouring extracts which are extracted from parts of various plants such as the seeds, roots, leaves or fruit.
Probably the most cost-effective method of extracting these oleoresins is using a solvent extraction process. Typical solvents used include hexane, acetone, ethanol and methanol.
Supercritical carbon dioxide (CO² extraction) and steam are also used.
The term oleoresin is derived from oleo, referring to the essential oils contained in almost all oleoresins as well as the term resin which represents the extracted resins, waxes and secondary active ingredients.
Why oleoresins?
Oleoresins offer numerous advantages compared to the raw spices:
Declaration for oleoresins
Oleoresins are 100 % natural products, i.e. they are extracted 100 % from the original plants.
According to EU Declaration on Flavourings 1334/2008, oleoresins are classified as natural spice extracts (e.g. pepper type).